To "explain IA", this afternoon I had my 5-year-old son draw me a picture of what he thought IA was and what it is I do for a living. Thought everyone would enjoy his take on explaining IA.
Here's the complete drawing: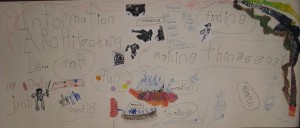 Click on the photo for a larger version
Here's what you'll see on the drawing and his explanations of the drawing in quotes.
"My Dad's job is an information architect". Apparently I look like a transformer with 70s hair.
People – "you work with a lot of people Dad". Naturally people are romans, knights and guys with swords.
Audiences – "here we have a drawing of the orchestra on stage with an audience "the guys at the right are bagpipe players, people will love them"
Labels – a drawing of a can of "mom soup"
Navigation – here we have a compass "like Jack Sparrow's" and "pirate ships having a battle"
Organizing – "I made a site map of super heroes, organized by boy superheroes and girl superheroes with pictures in case people can't read my writing"
Finding – "you have to find Waldo in this super big cave"
Search – "this is a hand holding a magnifying glass, looking at a spider"
Maps – "cause you sometimes need a map to find things"
Making things easy – "I decided not to draw anything for this because it was easier"
and lastly – "It's fun, see they are smiling"
I think he has a pretty good grasp of what IA is. Who knows, maybe he'll be an IA/UX/IxDA/Designer when he grows up.
NOTE: I only helped with printing out pictures of super heroes and the writing of this summary. I was totally amazed at what he knows about what I do and what things are part of it all. I have a fantastic son!